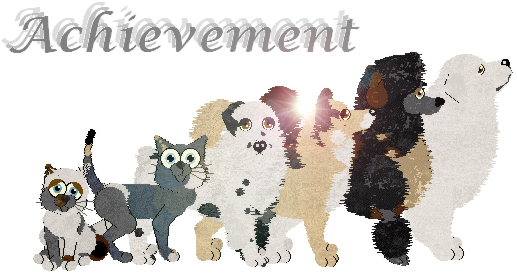 Welcome to Achievement! I am your host and webmistress, Kovitlac, or Kovi, if you like. This here is a Petz site created for the simple purpose of keeping all my catz and dogz currently showing up to date for anyone to see. Since things can get rather hectic around any of my regular sites, I'll be keeping track of my show petz, their points, and their titles here.
In addition to my listed petz winners I also have litters, bred from my petz, available for the public from time to time. Check back often, for I tend to get these little impusles, and could go into a breeding frenzy at any time;-)
Don't forget to also check out my current Service Dogz, bred by me (unless stated), and trained by reputable trainers! Also see the brand new WANTED section to find out how YOU can get credit in the training/showing of these fantastic petz!
So enough explaining! On to the petz! Choose anywhere listed in the navigation to the left. Thank you, and enjoy your visit to Achievement!
Click
here
to vote for Skittles at KittenWar!